Our Services
Window Washing - Interior / Exterior
Frames
Tracks
Sills
Screens
Storm windows
Skylights
Solariums / sunrooms
Mirrors
Chandeliers / Light fixtures
Ceiling fans
Power washing
Post Construction Cleaning
Our Standards
Blinded By The Light employees are professional, experienced cleaners who provide quality service to commercial, retail & residential properties.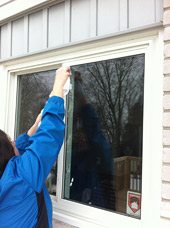 Blinded by the Light prides ourselves in a high standard of cleaning. We scrub your windows, remove all debris, squeegee and wipe down the windows and sills with a soft cloth as well as vacuum and wipe out the tracks. We use these proven methods to ensure all your windows are streak free and spotless.
All cleaning products Blinded by the Light uses are safe and non toxic
For your protection and ours, Blinded by the Light is fully Licensed, Insured and Bonded
Blinded by the Light can provide you with a flexible schedule whether you need cleaning services weekly, bi-weekly, monthly, seasonal, once or twice a year.
Contact Blinded by the Light today for a FREE no obligation service quote.